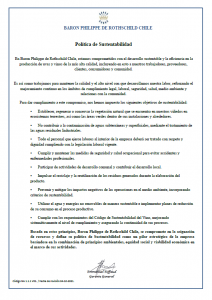 SUSTAINABLE DEVELOPMENT POLICY
BARON PHILIPPE DE ROTHCHILD CHILE
At Baron Philippe de Rothschild Chile, we are committed to sustainable development and to the efficient production of grapes and wines of the highest quality. Our sustainability policy embraces our employees, our suppliers, our customers and our local community.
We strive to maintain high quality and exacting standards through enhanced continuous improvement with a particular focus on compliance in legal, professional, environmental health & safety matters and in our relations with the community.
In pursuit of that commitment, we have set ourselves the following sustainability objectives:
to plant, regenerate or conserve the natural vegetation associated with our vineyard ecosystems, and green spaces within and around production facilities;
to treat wastewater in order not to pollute ground and surface water;
to treat all the company's employees with respect and dignity in compliance with the prevailing requirements of labour law;
to comply with and maintain health and safety measures in order to avoid occupational illnesses and workplace accidents;
to take part in community development activities and contribute to local development;
to take initiatives to recycle or reuse waste generated during the production process;
to prevent or mitigate any negative environmental impacts of our operations, incorporating sustainability criteria;
to use water and non-renewable energies in a sustainable way and take steps to reduce their consumption in the production process;
to comply with the requirements of Chile's wine sustainability code (Código de Sustentabilidad) by systematically raising our targets and ensuring the continuity of processes.
Baron Philippe de Rothschild Chile undertakes to allocate resources and defines its sustainability policy as a key element of the company's strategy, founded on a combination of respect for the environment, fairness and economic viability in the conduct of its activities.