2020 VINTAGE
Overall, the 2020 harvest was a success, despite the fact that drought-like conditions persisted throughout the season and average maximum temperatures were slightly higher than in 2019.
It should be noted that no precipitation fell during the ripening stage for this vintage.
Despite the capricious weather conditions during the 2020 grape harvest, excellent vineyard management was achieved thanks to the expertise of the Baron Philippe de Rothschild grape growers and winemakers, together with suitable irrigation techniques and correct predictions on harvest dates. In the end, the balance between aromatics, structure, and elegance on the palate showcases the terroir in all its qualities.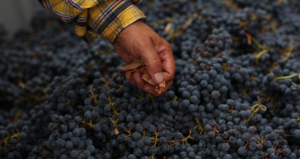 MATURING
The wine is matured in 20% new oak barrels and 80% one-year-old oak barrels for 14 months.
GRAPE VARIETY
This wine is made entirely from the same grape variety even though the requirement under chilean law is only 75%. Cabernet Sauvignon gives balanced wines with well-rounded tannins and blackcurrant, pepper and liquorice flavours. The wines have considerable ageing potential and their structure becomes rounder with time.
TASTING NOTES
Forest fruits - Black pepper - Intense - Fruity
Aspect
Deep ruby-red with purple highlights.
Nose
The nose is intense and elegant, revealing powerful fruity notes, mainly blackcurrant and black cherry, developing hints of Asian spices and black pepper mingled with subtle nuances of roasted almonds and toffee due to barrel ageing.
Palate
Starts out powerful and complex. Remarkably rich and well-structured, the palate is both full-bodied and very elegant, underpinned by well-balanced freshness.
The tannins are very ripe, fine, elegant and silky. Fruity flavours come to the fore, particularly notes of cherry and wild blueberry.
The finish is concentrated and well-balanced, with long-lasting flavours of black berries and black pepper, followed by retronasal notes of roasted almonds and mocha.
A long-lasting finish with very elegant flavours revealing all the richness of Cabernet Sauvignon grown on an outstanding terroir in the Maipo Valley.